"Playbeak"




A while back I received a most unusual email from Jim Ryan the Production Manager for the Laguna Playhouse In Laguna Beach California. He wanted to buy a Snow Goose to use as a prop in a play. Now I have to tell you that is about as exciting as things get around here. I am sure something else exciting had happened recently but since I canít remember it it must have paled in comparison. After hollering at my wife to "come in here and look at this" and calling both of my friends to tell them about it I got down to packing goose.

During subsequent correspondence I found out that this was not just any old play but the U. S. premier of "Lovers at Versailles" by Irish playwright Bernard Farrell. Also I was told that Sir Lawrence the Snow Goose was not to be relegated to some deep dark shadows of stage left. According to Mr. Ryan "The goose will have a prominent place on stage throughout the show and is affectionately referred to as "The Duck"." He also said that, "While he is on stage throughout the show his big moment is at the end of the show when the lead actress picks him up, places him under her arm and triumphantly leaves the stage. It's a great moment." Gosh! It kind of gives you goose bumps just thinking about it.

Mr. Ryan was kind enough to send the pictures below. I was a little shocked to see that it looks like Sir Lawrence is wearing stage makeup. Oh well, I guess you canít keep them under your wing forever.
click to enlarge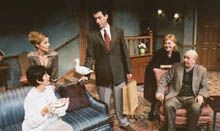 The Laguna Playhouse US Premiere production of "Lovers at Versailles" by Bernard Farrell, directed by Andrew Barnicle. Left to right: Marcia Rodd, Rebecca Dines, Snow Goose (making his first appearance on stage as "The Duck"), Kevin Black, Kelley Hazen, Joe Medalis. Photo: Ed Krieger


| | | |
| --- | --- | --- |
| click to enlarge | click to enlarge | click to enlarge |
Some time later I was asked to carve a "duck" for the Australian premier of "Lovers at Versailles" at the Sydney Opera House! I asked if I could loan them a carving so I could have him back for my personal collection. This worked out well except unfortunately they never did follow through with their promise to send pictures.

Since that trip "The Duck" has traveled to Hollywood with several other of my carvings to appear on the T.V. show "Crossing Jordan".

Stay tuned for the next appearance!